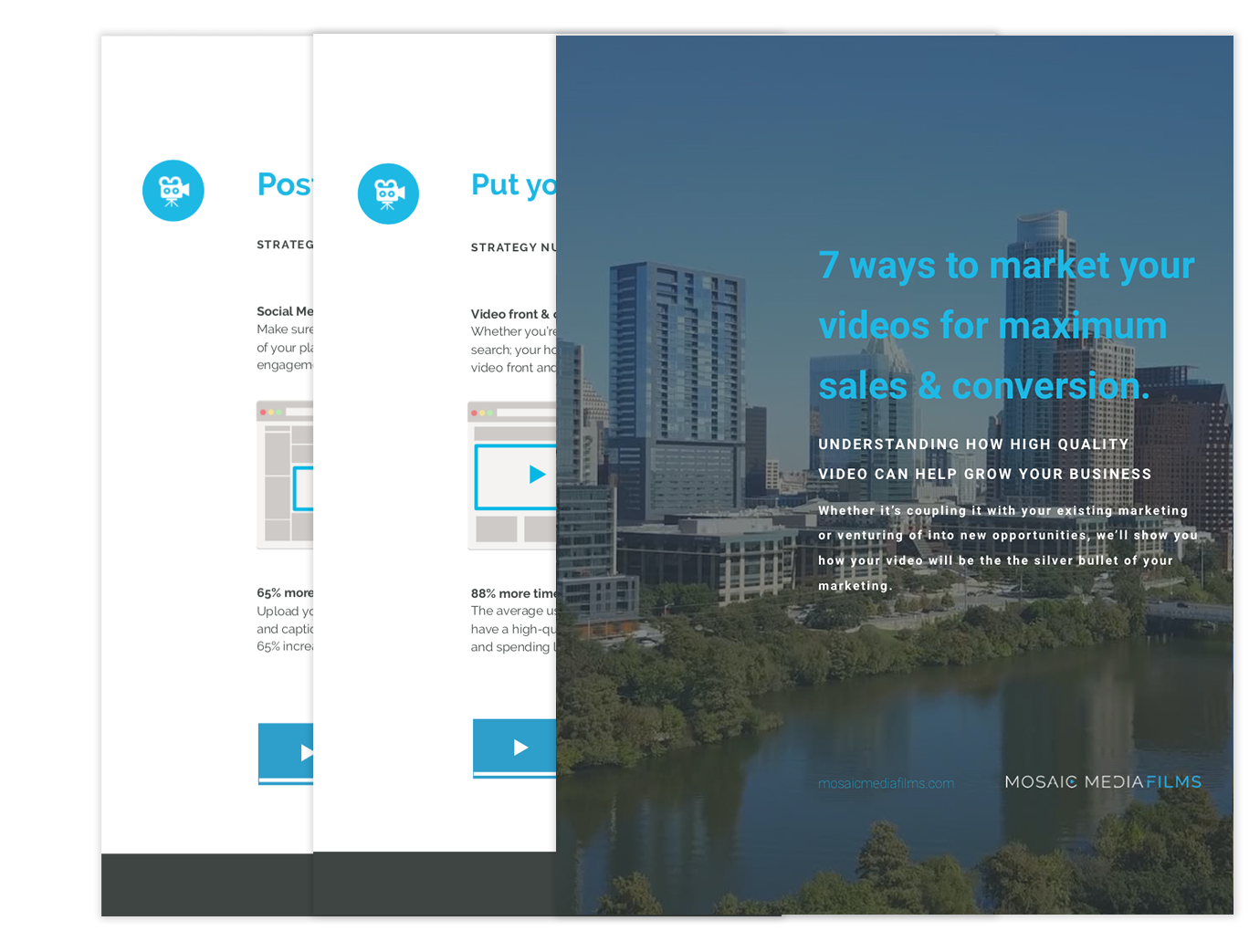 Thanks so much for reaching out!
We'll give you a call or reach out through email to set up your FREE Video Strategy Session. Talk soon!! 🙌
We like to say, "Let's start with the end in mind" which is why this guide can be a great help:  "7 ways to market your videos for maximum sales & conversion."
After all, our goal isn't to just create a pretty video for you – it's to help you grow your business! 👍
Austin's Highest Rated Video Production Company
22 Hours in 6 Minutes
THE EDITING PROCESS OF YOUR VIDEO
THE EDITING PROCESS
On the surface you see a 2 minute video and might think, "oh that doesn't look that hard to do." In this short video I pull back the curtain and show you all the steps that go into the editing process. You'll see a 22 editing project speed up at over 10,000 times speed and watch it all in 6 minutes! I'll walk you through each step, the reasoning behind it and you'll see the final video at the end.
Engage – Educate – Convert
SOME OF OUR RECENT VIDEO WORK
How It Works
Three Steps to Your Success With Video
Step One: Planning
We'll plan a story-based approach with you that focuses on conversion
Step Two: Production
We'll professionally film & edit stylized videos for your business
Step Three: Marketing
We have an optional turn-key marketing solution to help with search & sales
The Power of Video
The Silver Bullet of Marketing
INCREASES SPEED OF TRUST
Video allows viewers to connect with you, the experience from customers and your unique approach all which helps increase the speed of trust.
IDEAL FOR SEARCH
When optimized correctly, video is 50% more likely to show up in search – giving you more leads, more opportunity and an increase in overall sales.
OUTPERFORMS EVERYTHING
When video is done correctly it outperforms and enhances every form of online marketing such as SEO, Ads, Social Media, Blog and more.
9- Part Story Structure
Our proprietary story structure helps you engage, educate and convert.
---
We Know Marketing
Our proprietary story structure helps you engage, educate and convert.
---
Beautiful & Affordable
We create agency quality work at a fraction of the cost
---
Cinematic Approach
We're not just creating "videos" we're developing stories that connect
---
Non-intimidating Crew
We have fancy gear, but we don't believe in overkill that's intimidating and overwhelming.
---
Simple & Streamlined
We've developed a simple 3-step process to getting your videos created and online
---